See the Effect with Contextual Analytics
The Progress Sitefinity web content management system displays analytic data in the context of the web pages and on dashboards, giving content authors and marketers immediate insight into content performance. Web analytics can be applied to any page, or anywhere on the page, you want to track. This level of detail in the context of the web page enables you to make educated decisions and refine content instantly to deliver a more meaningful web experience.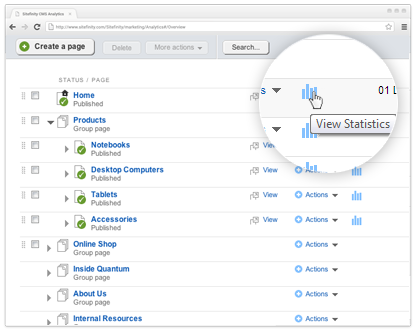 Google Analytics Integration
The web analytics feature of Sitefinity CMS is tightly integrated with Google Analytics in the backend providing users with all the benefits and features of Google Analytics in the context of the CMS. The built-in Analytics Module retrieves data from Google Analytics and displays reports for all websites running in your Sitefinity project. The solution doesn't require going outside of the CMS to access information from Google Analytics. The full feature list for Google Analytics is available here.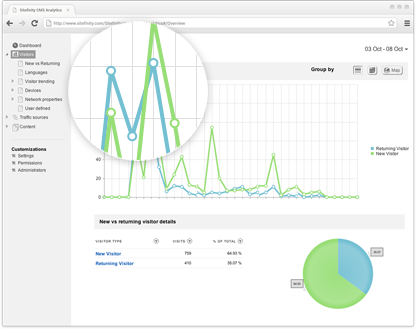 Granular Report Access
Sitefinity supports extremely granular security that allows user-level permissions to be attached to everything in the CMS, including analytics. You can apply access rights down to a per report level to restrict sensitive reports and data. Whereas, accessing the reports directly through Google Analytics opens up the full suite of reports to everyone who has report access to the account.