Multilingual Content
Connect with your global audience in their native language with localized content and digital assets in multiple languages, including languages such as Arabic that require a right-to-left format. Improve your SEO with localized URLs and metadata, ensuring your website is relevant and discoverable in all the countries you do business. Sitefinity CMS allows you to manage more than 50 languages from a central place without sacrificing website performance.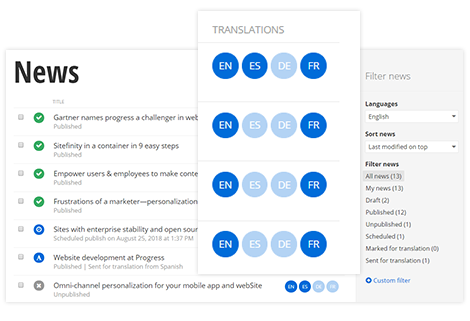 Translation Management
Easily translate content from one language to another, manage all translation projects from a central place and stay in control of the process with approval workflows, versioning and revision history per language. Instantly export and re-import any content for localization using the XLIFF file format, which is supported by most translation agencies. Sitefinity CMS also enables editors to copy content from one language to another to perform a manual side-by-side translation.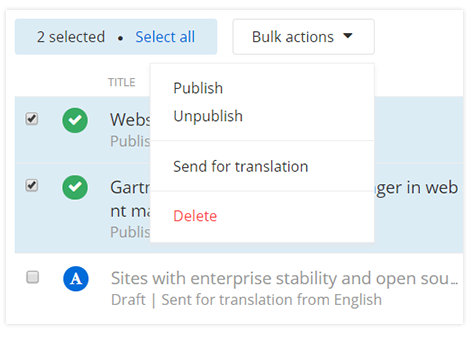 Multilingual System Interface
Sitefinity CMS provides a multilingual administration user interface, enabling website administrators and content authors in regional offices to edit sites in their native language. Content authors can publish content in any of the available languages. In addition to English, the user interface is available in Chinese, Spanish, Arabic, Portuguese, Russian, German, French, Italian, Dutch and Turkish. Sitefinity CMS interface labels can also be translated into other languages as needed.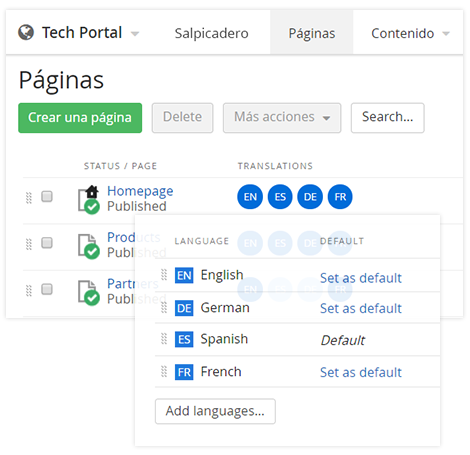 Machine Translation API
Integrates cutting edge, language translation technology with just a few lines of code making it even easier to manage multilingual websites. Reduce effort, save time and improve content quality by easily integrating with our partner translation services such as Lionbridge and Microsoft Translator. With Sitefinity's machine translation API, you can hook up to any machine translation service to translate your content immediately.