Engage Website Visitors With Consistently Fast and Beautiful Mobile Experiences
Today's multitouch, multichannel, always-on user journeys make delivering consistently fast, beautiful and high-performing content across all devices and distribution platforms a must for organizations of all sizes.
Providing Accelerated Mobile Pages (AMP) pages can result in significant improvement of user engagement thanks to increased speed, reduced bandwidth and better infrastructure utilization, helping to maintain and improve key performance indicators.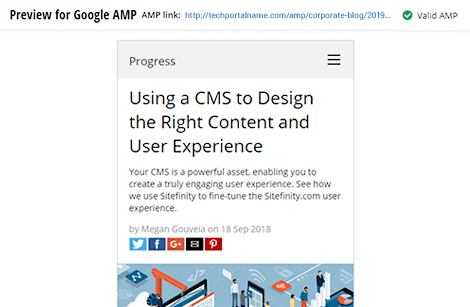 Make Dynamic Content Mobile-Friendly With Sitefinity
Sitefinity enables site managers and developers to easily create and extend template-based AMP pages. Once enabled through the backend, AMP pages are automatically generated whenever new content is added via the admin panel.
AMP pages are supported in multiple content types, such as news, blogs and events, and developers can easily extend the templates to cover additional dynamic content types and add another layer of consistency to the multichannel experience.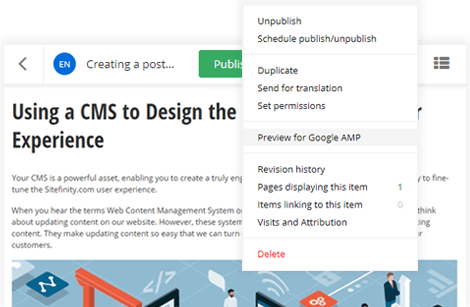 Easy to Modify, Powerful When Deployed
With so many interaction touchpoints and ever-increasing mobile usage, marketers face the challenge of keeping content and branding consistent across multiple channels.
Accelerated Mobile Pages (AMP) with Sitefinity take the guesswork out of maintaining mobile-friendly layouts and helps ensure channel consistency and improved web experience.
AMP pages in Sitefinity are easy to setup, modify and maintain and enable marketers to focus on creating compelling content that loads instantly and is easy to consume.
Avoid SEO Penalties Through Cannonical URLs
AMP pages duplicate the content of their desktop counterparts, yet thanks to the canonical URL controls in Sitefinity, SEO and SEM teams can rest assured that their content will not be penalized by Google.
Sitefinity provides another layer of flexibility so marketers and site managers can customize the canonical URL of the original page through the backend and with the help of custom rewrite rules.