Easy Access to Data Through Data Replication
Progress® OpenEdge® Pro2™ is a data replication solution that provides easy access to data from your OpenEdge applications. OpenEdge Pro2 data replication solution removes connectivity limitations without disruption to normal business operations or risk to the transactional database.
Real-Time Reporting and Analysis
With OpenEdge Pro2 data replication you create a channel for transferring Progress OpenEdge data into a Microsoft SQL Server, Oracle or a target OpenEdge database for efficient reporting and analysis. As your data is updated, it is replicated to your desired database in near real-time. With your Progress OpenEdge database and target databases virtually in sync, you can use your third-party reporting solutions for up-to-date reports and business intelligence.
Change Data Capture
By leveraging Progress OpenEdge Change Data Capture (CDC), OpenEdge customers and partners can deliver low-latency, near real-time replication of that data to support not just traditional descriptive analytics, but also predictive analytics, AI-driven decisions, and time-sensitive IoT events.
Modern UX Dashboard and Replication Wizard
Pro2 offers a new, modern UX dashboard and new UX Replication Wizard, ensuring you'll be prepared for increasing demands for data access with expanded functionality and scalability for future growth. The UX dashboard improves efficiency and productivity, and allows proactive monitoring of performance and analytics, all while delivering a beautiful and intuitive experience that expands the product's functionality while representing the most evolved version to date.
Migration
To stay competitive in the modern business world, your applications need to run as close to 24/7 as possible. In some cases, you can only have downtime limited to 4 hours. This can make upgrading or migrating your OpenEdge database difficult, even with proper planning. With Pro2, you can migrate your OpenEdge database with planned minimal downtime.
Increase Efficiency With an Intuitive UI
The elegant and intuitive UX dashboard eases configuration and management chores plus allows proactive monitoring of performance and analytics
Get easier mapping from source to target
Establish replication processes quickly and easily
Instantly get a picture of actions and processes
Improve Productivity
The new UX Replication Wizard allows creation of new replication processes within the product, without having to maintain external parameter files
Job Runner, UX Actions and UX Mapping allow control of processes within the browser
Bulk Load functionality can be managed directly from the browser and eases set up and maintenance
An easier upgrade process ensures backward compatibility
Scale for Growth
Pro2 prepares you for the future with enterprise-level views and aggregated data across all environments
Leverage Progress Change Data Capture (CDC) to rapidly deliver near real-time replication
Get the same great Pro2 performance with improved usability, agility, scalability and productivity
What's New in OpenEdge Pro2 6.5
Display Status for Bulk Load
The Pro2 web UI now displays the status of ongoing bulk load process providing users feedback on the live status of the process.
Efficiently Map Table Fields
With Pro2 6.5, it is much easier to map fields of tables, particularly where there are hundreds of fields, with a refined UI having a search bar for fields.
How it works
Replication triggers or Change Data Capture automatically capture all data changes; this means minimal information is written to the queue to identify the updated record.
Next, the multi-threaded replication process retrieves the updated record and the queued data in the replication is moved to the target database. Done in near real-time, the I/O operation is optimized with the updated record residing in cache. Any analysis can be run against current data in a replicated database, leaving the transactional database resources to their normal activities, all while feeling confident your data is accurate and secure.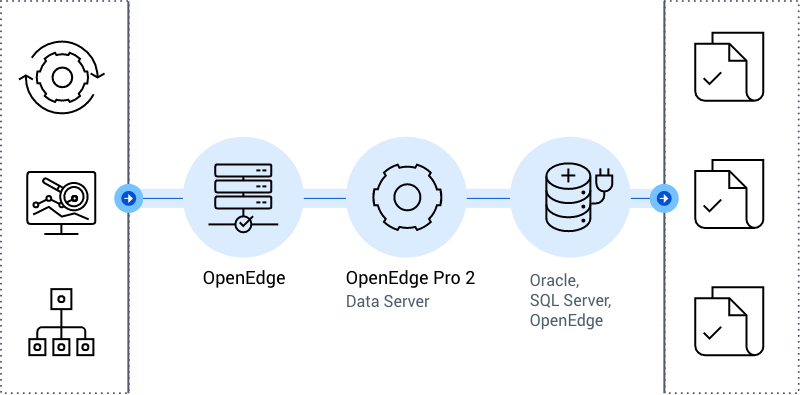 ---
Related resources