Partner Tracks
Achievement Badges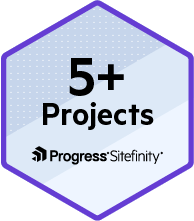 About LFi SPA
Serving customers in Colombia and Chile
LFi is a digital factory that develops digital strategies which combine creativity, technology and business. LFI was founded in 2009 and it is headquartered in Santiago, with branches in US, Colombia and Mexico, and it works with clients in many countries in Latin America. With more than 10 years of experience, its team of 80 professionals from different disciplines have developed digital initiatives for clients in a wide range of sectors: government, mining, financial and insurance, consumer goods, among others. LFI has successfully implemented Sitefinity CMS projects in clients from a wide range of industries.
---
Verified by Progress
Sitefinity Accreditations
Provided by LFi SPA
Highlights
Competencies
Sitefinity
3rd Party Systems Integration
Ecommerce
Email Marketing Implementation
Enterprise Content Management
Graphic Design
Hosting / Cloud Technologies
Intranet Development
Line of Business Applications
Mobile Applications
Mobile Friendly Websites
Multimedia
Personalization
SEO & Marketing
Featured Projects by LFi SPA

Hospital del Trabajador Manages 20 Websites with Progress Sitefinity and Achieves 100% Uptime
The Hospital del Trabajador website is part of a migration project of multiple Chilean Safety Association websites, with the ultimate goal to deliver a superior experience to patients throughout the pandemic.
Read the story