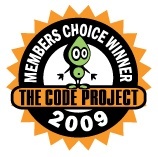 Telerik, the leading vendor of development tools and user interface components for .NET, is pleased to announce that its products have been named Best UI Components by The Code Project's members in the First Annual Members Choice Awards.
The Code Project, one of the world's largest online developer communities, asked their members to rate their favorite products. The results reveal the actual perceptions of what developers value, and prove that Telerik RadControls are the preferred choice of the developers' community when it comes to user interface components for .NET.
The Telerik team would like to show its appreciation to all who voted for our products.
About the Code Project
The Code Project is one of the largest development communities in the world, comprising involved professional developers, development managers, and architects. Over 3.4 million developers visit the site each month to access its lively discussion boards and more than 23,000 articles, complete with source code and examples.
About Telerik
Telerik empowers its customers to create compelling app experiences across any screen. Our end-to-end platform uniquely combines industry-leading UI tools with cloud services to simplify the entire app development lifecycle. Telerik tools and services can be adopted individually or as a platform and seamlessly integrated with other popular developer solutions. More than 130,000 customers from 40,000 organizations in 94 countries depend on Telerik products, including more than 450 of the Fortune 500®, academic institutions, governments and non-profits. For additional information about Telerik, please visit telerik.com or follow @telerik on Twitter.
###
Press Contacts:
Erica Burns
Telerik, Inc.
Tel: 888.365.2779 #154
Erica.Burns@telerik.com