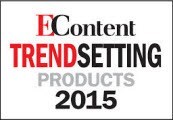 Telerik® Sitefinity™ DEC and Telerik® Test Studio™ solution were named EContent Trendsetting Products of 2015. This is the second recognition for Telerik Sitefinity CMS by EContent which also made it to the prestigious list last year for its innovativeness and ease of use.
"I rely on dozens of tools every day to get my job done. We all do, but tools are especially important in the digital media industry," says EContent editor, Theresa Cramer. "Whether you are in need of a content management system to control your digital experience or an analytics tool to tell you how you're doing, you need the right tools at every step of your journey. Congratulations to all the companies that rose above the rest to be named to the second annual EContent Trendsetting Products List."
You can see the full list EContent Trendsetting Products of 2015 here.
About Telerik Digital Experience Cloud
The Sitefinity Digital Experience Cloud is a unified marketing command center that helps marketers drive growth by analyzing and optimizing every customer journey. With the combined offering of Telerik Sitefinity CMS and Telerik Sitefinity DEC, Telerik is providing a central repository of individual customer interactions, which draws information from all systems holding key customer data across channels and devices.
About Telerik Test Studio
Telerik Test Studio solution is the most intuitive and easy-to-use automated testing tool on the market. It enables testing HTML5, AJAX and XAML apps, JavaScript calls, Telerik controls, dynamic page synchronization and more, makes manual testing more organized and productive, and allows crafting load tests out of functional tests or Telerik® Fiddler logs.
About EContent
EContent is a leading authority on digital content and publishing, media and marketing, helping executives and decision-makers find the right path in these fast paced markets. By covering the latest tools, strategies and thought-leaders in the digital content ecosystem, EContent magazine and EContentmag.com keep professionals ahead of the curve to maximize digital content strategy investments, while building sustainable and profitable business models.