Telerik Kendo UI and Telerik TeamPulse win in the categories of "Web Development" and "Collaboration Solution"
On May 9th, the annual Great Indian Developer Summit (GIDS) presented Telerik with two awards, honoring the software provider's excellence in innovation. At the special ceremony in Bengaluru, Telerik India's country manager, Abhishek Kant, received the awards in the category "Web Development" for Kendo UI, Telerik's comprehensive HTML5/JavaScript framework for modern web and mobile app development, and in the category "Collaboration Solution" for the company's all-in-one project management and collaboration software, TeamPulse. Together with the other winning software products and tools across the 12 award categories, Telerik's Kendo UI and TeamPulse were praised for their functionality, usability and innovation. This is the third year in a row that Telerik has been presented with an award at GIDS.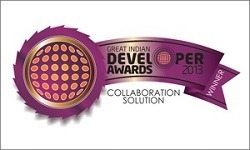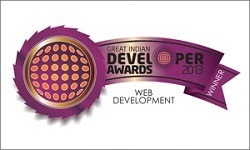 The annual Great Indian Developer Awards honor companies' excellence and contribution to increasing productivity and innovation in the software development ecosystem. The awards include an intensive, 3-stage nomination and voting process within the developer community as well as a final, fourth stage where an esteemed panel of judges selects the winners. The awards are part of the Great Indian Developer Summit, one of the most highly-regarded software developer conferences in India, serving more than 17,000 IT specialists.
Since opening its office in Gurgaon in early 2012, Telerik has been very active within the developer community, organizing initiatives such as events and online training sessions, focusing on topics such as mobile app development, hybrid app development, development tools, quality assurance, agile development and more.
For the past year and a half, Telerik has been making inroads across India, signing numerous customers and partners. Some of Telerik's enterprise customers in India include Infosys, Cognizant, Honeywell, Dell and Symantec. Telerik also has strong partnerships with CSC and Idealake.
About Telerik Kendo UI
Telerik Kendo UI is everything professional developers need to build HTML5 and JavaScript websites and mobile apps. Based on jQuery, Telerik Kendo UI delivers a rich UI for the web, HTML5-powered data visualizations, and tools for building native-like mobile apps with HTML5. The leading-edge framework delivers everything in a unified, compact package, backed by industry leading professional support. For more information about Telerik Kendo UI, please visit www.kendoui.com or follow @KendoUI on Twitter.
About Team Pulse
TeamPulse is an easy-to-use project management tool that supports agile best practices and enables developers and non-developers to work seamlessly, across projects and departments, providing a clearer picture of tasks and priorities. For more information about Telerik TeamPulse, please visit http://www.telerik.com/agile-project-management-tools/.
About Telerik
Telerik empowers its customers to create compelling app experiences across any screen. Our end-to-end platform uniquely combines industry-leading UI tools with cloud services to simplify the entire app development lifecycle. Telerik tools and services can be adopted individually or as a platform and seamlessly integrated with other popular developer solutions. More than 130,000 customers from 40,000 organizations in 94 countries depend on Telerik products, including more than 450 of the Fortune 500®, academic institutions, governments and non-profits. For additional information about Telerik, please visit telerik.com or follow @telerik on Twitter.
###
Press Contacts:
Erica Burns
Telerik, Inc.
Tel: 888.365.2779 #154
Erica.Burns@telerik.com