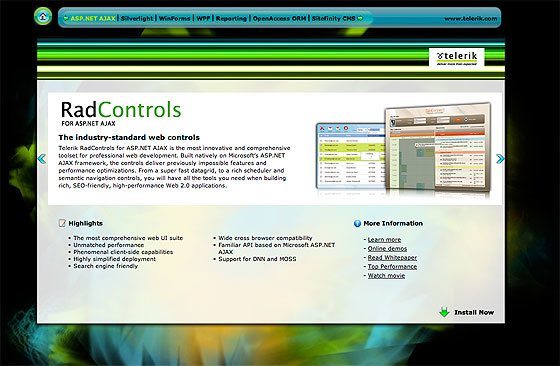 Telerik was conferred three Merit and three Excellence Awards in the 2008 Technical Art Competition of the Society of Technical Communication, Boston Chapter. For a third year in a row, Telerik has been recognized in several competition categories.
Here are last year's awarded entries (click on an image to see a larger version):
Telerik .NET Toolset Demo CD
—Excellence Award
Telerik Sitefinity Print Ad
—Excellence Award


Sitefinity CMS Brochure
—Excellence Award

RadControls for ASP.NET Ajax Print Ad
—Merit Award

RadControls for Silverlight and WPF brochure
— Merit Award

Telerik Reporting Manual Cover
—Merit Award
About the Society for Technical Communication (STC)
STC is an individual membership organization dedicated to advancing the arts and sciences of technical communication. It is the largest organization of its type in the world. Its 14,000 members include technical writers and editors, content developers, documentation specialists, technical illustrators, instructional designers, academics, information architects, usability and human factors professionals, visual designers, Web designers and developers, and translators - anyone whose work makes technical information available to those who need it.
About Telerik
Telerik empowers its customers to create compelling app experiences across any screen. Our end-to-end platform uniquely combines industry-leading UI tools with cloud services to simplify the entire app development lifecycle. Telerik tools and services can be adopted individually or as a platform and seamlessly integrated with other popular developer solutions. More than 130,000 customers from 40,000 organizations in 94 countries depend on Telerik products, including more than 450 of the Fortune 500®, academic institutions, governments and non-profits. For additional information about Telerik, please visit telerik.com or follow @telerik on Twitter.
###
Press Contacts:
Erica Burns
Telerik, Inc.
Tel: 888.365.2779 #154
Erica.Burns@telerik.com