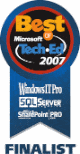 NEWTON, MA, 5 June, 2007– Telerik today announced that RadControls for WinForms has been selected as a finalist for the Best of Tech•Ed 2007 Awards conducted by Windows IT Pro, SQL Server Magazine and Office & Sharepoint.com
"The field included more than 260 entries and after technically evaluating all of the entries, we chose finalists based on the product's strategic importance to the market, its competitive advantages and the value to the customer," said Michael Otey, Technical Director for Windows IT Pro.
RadControls for WinForms is the first suite of Vista-style User Interface components.
The product is inspired by the capabilities of Microsoft's new framework for Windows interface development, called Windows Presentation Foundation (WPF).
Put simply, the product allows developers to build rich interfaces, which have the look and feel of Vista/WPF, but run on Windows XP. RadControls for WinForms offers previously impossible capabilities like scaling, rotation, animation effects, transparency, alpha blending, etc.
The direct benefit for developers is the fact that they can use existing familiar technology, namely Windows Forms, and do not need to learn the new development paradigm of WPF. In addition, no extra hardware costs have to be incurred, since RadControls runs on Windows XP/Windows Server 2003. End-users on the other hand will benefit from the much more appealing and interactive Vista-like interfaces, which are ultimately going to become widely accepted in the near future.
Additionally, at TechEd 2007 Telerik presented the latest additions to its product line, namely the first official version of Telerik Reporting, a brand new suite built on top of ASP.NET AJAX and the first UI suite for Microsoft Silverlight showcased on www.silverlight.net.
About Windows IT Media
Penton's Windows IT Media, the largest independent Windows IT community in the world, has Windows IT Pro as its flagship print publication. Windows IT Media also includes SQL Server Magazine and MSD2D. The Windows IT Media network has 2.5 million unique visitors to its Web sites each month, and over one million subscribers who opt-in to one or more email newsletters. For more information visit: http://windowsitpro.com/awards
About Telerik
Telerik empowers its customers to create compelling app experiences across any screen. Our end-to-end platform uniquely combines industry-leading UI tools with cloud services to simplify the entire app development lifecycle. Telerik tools and services can be adopted individually or as a platform and seamlessly integrated with other popular developer solutions. More than 130,000 customers from 40,000 organizations in 94 countries depend on Telerik products, including more than 450 of the Fortune 500®, academic institutions, governments and non-profits. For additional information about Telerik, please visit telerik.com or follow @telerik on Twitter.
###
Press Contacts:
Erica Burns
Telerik, Inc.
Tel: 888.365.2779 #154
Erica.Burns@telerik.com