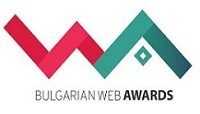 Telerik brought home two awards from the Bulgarian Web Awards ceremony held on June 18, 2015, taking first place for UX and Usability and the special award for Website of the Year for Telerik.com. The website was revamped in 2014 to merge the company's seven separate product websites into one and present the company's new brand identity. The jury was impressed by the great user experience, as well as the intuitive architecture and beautiful design of Telerik.com.
The Bulgarian Web Association is devoted to developing and promoting high professional standards and ethics among the Bulgarian web society. The association's purpose is to promote the Web as a communication tool and as a service and media in Bulgaria.
Telerik is proud to be recognized as a leader among the Bulgarian web society, and as a company provide inspiration to entrepreneurs to promote innovation, best practices and contemporary approaches.
The full list of winners can be viewed here.
About Bulgarian Web Awards
Now in its seventh year, the Bulgarian Web Awards program is organized by the Bulgarian Web Association. The purpose of the awards program is to support professionalism in the industry and stimulate the development of new trends and professional criteria in the creation of new web products and services. The program is supported by all Bulgarian IT organizations, media groups and online media, as well as many IT companies in the sector.